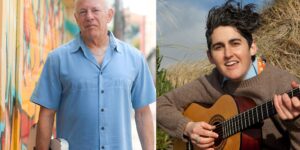 For the originally scheduled Shenson Faculty Concert Series concert, Larry Dunn was going to be joined by three other CMC songwriters (Maestro Curtis, Erik Pearson, and Anne Carol Mitchell) in a round-robin fashion, much like a Nashville singer/songwriter circle, where each songwriter would play original music and the songwriters would accompany one another on selections. For this Zoom concert, Larry is bringing that experience to your living room with a similar experience. He'll be joined by Anne Carol Mitchell in a short concert of original acoustic songs highlighting songwriting prowess, poignant lyricism, and solo guitar mastery.
Larry Dunn (CMC guitar and songwriting faculty member) has been a songwriter and guitarist in the Bay Area music scene for nearly decades, performing, recording, touring, and teaching. His music has been recorded on Warner Brothers, Rounder Records, and Rhino Records. His original compositions span folk, country, blues, R&B, and bluegrass styles.
His music can be found at larrydunnmusic.net/.
Anne Carol Mitchell (CMC Marketing Manager) writes music that draws the listener more beautifully into the narratives of Earth's deep time. With musical stylings and guitar work reminiscent of Americana and folk traditions, her songs reveal the storied existence of the world in all its beauty, vulnerability, resiliency, and ferocity. A poet at heart in the vein of Mary Oliver, her lyricism speaks accessibly about nature as a call to reconnect with the natural world, during a time when caring for the planet is more important than ever. Anne writes music for filmmakers working for social change, with an official selection in the Green Film Festival. She has worked extensively with LGBTQ poet Judy Grahn, scoring selections of her work. Anne has toured in an opening ensemble for Ani DiFranco, in addition to her own work as nationally touring songwriter.
Her music can be found at: annecarol.com/