April and May bring showers, flowers, and two beautiful evenings of music.
Announcing two spring performances at the coziest listening rooms in the Bay: The Red Poppy Arthouse and The Lost Church! I'll be sharing the stage with exceptionally talented folks. Both of these performances feature Nissa Gustafson on harmonies and violin. We'll be performing songs I've been working on for a new album.
In both performances we're sharing the bill The Muted Jewel Tones an all women, three part harmony group.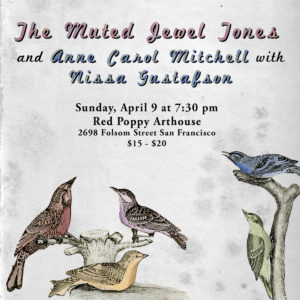 Sunday, April 9, at 7:30 pm
The Muted Jewel Tones
Anne Carol Mitchell with Nissa Gustafson
Red Poppy Arthouse
2698 Folsom St, San Francisco, CA 94110
$15-$20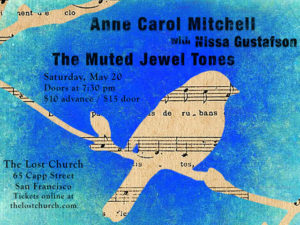 Saturday, May 20, doors at 7:30 pm
Anne Carol Mitchell with Nissa Gustafson
The Muted Jewel Tones
The Lost Church
65 Capp St, San Francisco, CA 94103
$10 advance, $15 at door